Nature Tortuguero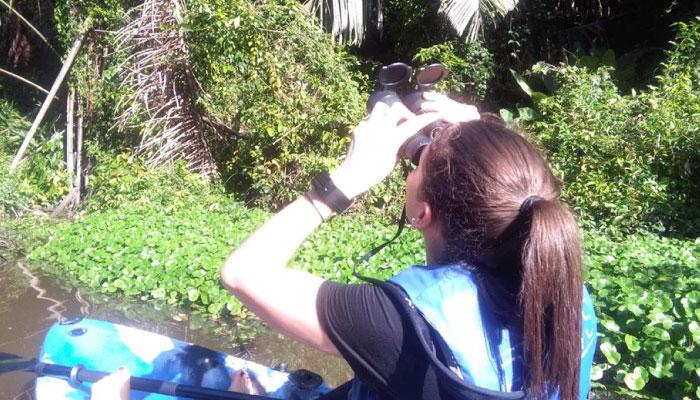 Description
Kayak Tour:
The tour begins at 5:40 am with a coffee in our office and then proceeds to enter the Park and enjoy 3 hours in Kayak in the company of our official guide.
This option is for lovers of adventure and exercise as you can enter the deepest and longest channels where human is not present and the charm of the National Park's water trails will be more fully observed.
What includes?
Complete equipment, insurance, certified guide, coffee before the activity.
What to wear?
Something for rain, water, sandals, comfortable clothes, camera, sunglasses, repellent, sun cream.
Walk to the trail:
This activity will start from our office, where we will put on the necessary equipment to carry out the activity according to the weather.
It is done by the Jaguar trail, located parallel to the beach, its approximate duration is 2 hours in which we will know the tropical rainforest in which you can walk and get to know the rich flora and fauna of the Tortuguero National Park.
What to wear?
Long pants, repellent, sun cream, camera, water, closed shoe.
What includes?
Binoculars, certified guide, rubber boots if necessary, safe.
Does not include:
Entrance to national park.
Turtle Tour:
From July to October Tortuguero has the most important beach for spawning the green turtle, this is a unique experience where you can see these gigantic and prehistoric reptiles lay their eggs and continue with their life cycle.
The tour takes place at night and lasts two hours.
Start from our office and from there we will walk to the beach sector where it belongs to wait to be called by a turtle tracker so we can go see it.
The tour is always carried out even if it rains, it cannot be postponed for another day.
What includes?
Insurance, certified guide, sticker.
What to wear?
Closed shoes, dark clothes (mandatory), flashlight, something for rain, long pants and repellent.
Taking pictures is prohibited.
Includes transportation in and out (Arenal, South Caribbean, San José) in your package for $ 55 per person