Adventure Roots
Kayak + Hill + night walk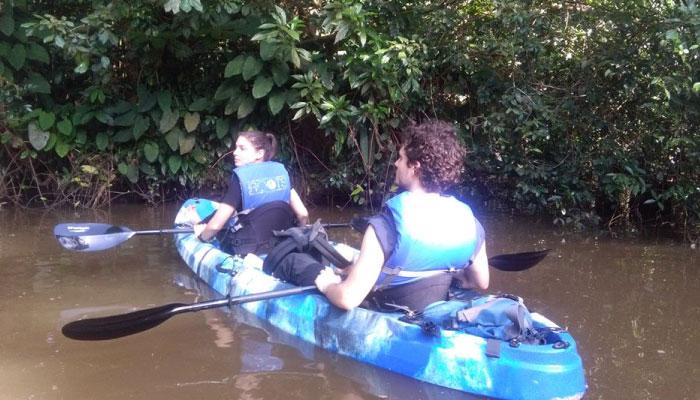 Description
Kayak Tour:
The tour begins at 5:40 am with a coffee in our office and then proceeds to enter the Park and enjoy 3 hours in Kayak in the company of our official guide.
This option is for lovers of adventure and exercise as you can enter the deepest and longest channels where human is not present and the charm of the National Park's water trails will be more fully observed.
What includes?
Complete equipment, insurance, certified guide, coffee before the activity.
What to wear?
Something for rain, water, sandals, comfortable clothes, camera, sunglasses, repellent, sun cream.
Tour to Cerro Tortuguero:
Of the 200 volcanic cones in Cr the Tortuguero hill is considered an inactive volcano,
This hike will lead us to the highest point of the entire Caribbean coast.
Its 119 meters high will surprise us with its beautiful views as well as the sighting of many flora and fauna.
What to wear?
Closed shoes, repellent, camera, water, sun cream, long pants.
What includes?
Ponchos, binoculars, round trip transportation, certified guide, entrance.
Night walk:
The walk will start from the office of Roots, from where we will put on our water boots and go to the shelter. The departure time is at 6 pm, just at dusk.
This hike is unforgettable, the darkness and the mysteries of the night will captivate you, it is ideal to enjoy an adventure and exploration of the jungle.
We can find a great variety of insects, snakes, frogs and reptiles.
What to wear?
Long pants, closed shoes, repellent, flashlight, camera, water.
What includes?
Poncho, certified guide, entrance to the private shelter, flashlight and boots.
Includes transportation in and out (Arenal, South Caribbean, San José) in your package for $ 55 per person